Scotland's Leading Tanning Chain
Sunbeds | Spray Tan | Self Tan | Slimming | Teeth Whitening | ReVive LED Light Therapy
Tanz Tanning is Scotland's award winning tanning salon chain. We were established in 1994 and now have 29 salons located across Central Scotland including Lanarkshire, Glasgow, Edinburgh and Ayr and each salon offers a range of tanning, toning and teeth whitening options.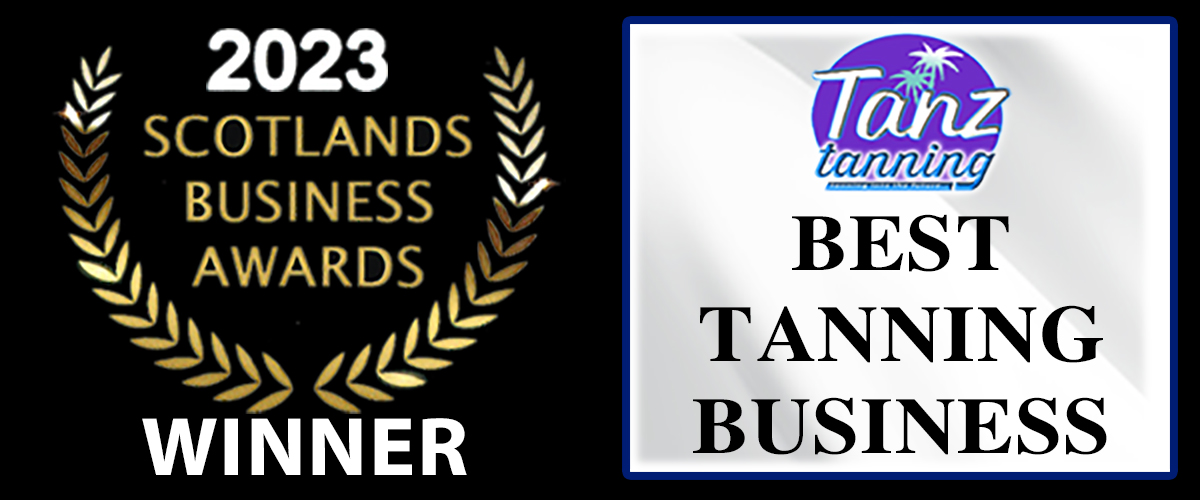 Proud winners of the BEST Tanning Salon Business, March 2023, at the Scottish Business Awards.
This award was only possible thanks to the support from our loyal customer base. The recognition of receiving this award highlights how dedicated our customers are in visiting our salons and how much they appreciate the staff working in the salons. Not only do we value customer satisfaction as our number 1 priority, we also put a big focus on staff motivation and progression for individual staff members and the company overall, all whilst providing premium equipment and products, helping to ensure that we really are the BEST! See our customer charter for more details on all of the great things we have to offer
All Tanz salons in Scotland offer a wide range of state of the art UV tanning equipment. All salons feature the Luxura X10 and most salons also offer the brand new Luxura Vegaz – featuring Number 1 Industry Leading Megamax Tubes. In addition to sunbeds and tan stands, most Tanz salons offer sunless tanning in the World's Number 1 Spray Tan Booth – VersaSpa and VersaSpa Pro. Our Spray Tan booths offer a gorgeous golden glow in as little as 3 minutes! And you can also top up your tan with our premium range of self tan including Fake Bake, Xen Tan and Sienna X available instore and in our online shop.
At Tanz we help you look good and feel good! That is why we also offer a range of slimming and beauty solutions with vibration plates, slimming tablets, teeth whitening and ReVive LED Light Therapy available in most salons.
In addition to our extensive range of services we also offer a variety of products to meet your health and beauty needs. We offer the very latest range of UV tanning creams and accessories such as Carrot Sun, TanShots, Ultra X capsules and Swedish Beauty tanning capsules as well as Australian Gold SPF, Fake Tan, moisturisers, 100% natural slimming tablets and teeth whitening kits in addition to gift vouchers. All of these products are available to purchase instore and on our online shop.
99% Customer Satisfaction
We recently asked our customers to complete a short survey to evaluate how happy they were with Tanz and we are delighted to announce that we received a 99% Customer Satisfaction Rating!
Customer satisfaction is our number one priority at Tanz. We actively encourage customer feedback – good and bad – as it is our mission to be the best!
We pride ourselves on our exceptional customer service, our high levels of cleanliness and our fully trained professional staff. We invest heavily in staff training to ensure that all staff have the knowledge and confidence to serve our customers to the best of their ability.
The safety and well-being of our customers is the highest priority at Tanz. This is why we ensure that each of our tanning salons in Scotland adhere to the highest hygiene standards.
We have also developed a Customer Charter to outline our promises to each of our valued customers.
Fully Accredited Member of The Sunbed Association
All of our salons are proud members are proud members of The Sunbed Association.
The Sunbed Association is at the forefront of promoting responsible tanning and, as such, we are committed to delivering an excellent, informed service to all our customers.
Set up in 1995, the TSA is a not-for-profit organisation who are representative of manufacturers, distributors and operators of lamps and sunbeds.
Their work goes over and above the tanning salon environment. The TSA are in frequent contact for a varied area of issues with government departments, the media and regulatory bodies.