Self Administered Teeth Whitening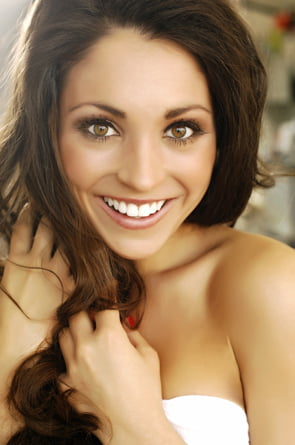 Tanz offer 2 Express Self Administered Teeth Whitening options – Ultra Smile Express and Megawhite Express. Both are non-peroxide laser teeth whitening and provide immediate results for clients. They are ideal for occasions such as weddings, holidays and even a big night out!
Both Ultra Smile Express and Megawhite Express take 15 minutes. Clients can do double sessions if they wish but we recommend no longer than 30 minutes in a 24 hour period
Ultra Smile Express is £39.99 and Megawhite is £49.99. Ultra Smile Express offers a 3 – 7 shade improvement and Megawhite offers a 4 – 12 shade improvement.
This is express self administered teeth whitening. It is natural for the results to regress somewhat over time. This is natural and should be gradual. However top up treatments may be
required 
in order to maintain the results. The lifespan of results will vary by the clients lifestyle ie drinking red wine, tea, coffee, smoking will all discolour teeth. The better the customer's lifestyle the longer the results will last.
Once a customer feels that their results are starting to fade they can come back for a top up. Both Megawhite and Ultra Smile Express can be done as often as required since they are completely safe and are good for teeth. However we would not recommend more that 2 x 15 min sessions in any one day.
We would suggest that customers avoid eating or drinking anything other than water for 30 minutes after the whitening treatment.
Please see the Manufacturers After Care Advice for more information on what you should eat and drink for the following 24 hours.
No, the experience is painless. Clients should not experience any side effects such as sensitivity or sore gums
Yes. Both Ultra Smile Express and Megawhite Express comply with all current legal requirements in the UK and around the world. It is peroxide free and is completely safe.

Ayr 59 Alloway Street 01292 270271
Bathgate 53 Hopetoun Street 01506 633520
Bellshill 176 Main Street 01698 849490
Carluke 3 Stewart Street 01555 759978
East Kilbride 1 Glebe Street 01355 265012
Glasgow 229-231 Great Western Road 0141 332 9994
Motherwell 210 Merry Street 01698 266677
Musselburgh 134a North High Street Musselburgh 0131 653 0444
Penicuik 18 High Street Penicuik 01968 768035
Uddingston 85 Main Street 01698 760680
Wishaw 6 Glasgow Road 01698 374040
Edinburgh 295 St John's Road, Corstorphine 0131 334 6566
Edinburgh 51 Drum Street, Gilmerton 0131 629 2110
Edinburgh 122 Granton Road, Granton 0131 551 6539
Edinburgh 48 Portobello Road, Meadowbank 0131 661 1114
Edinburgh 43-45 South Clerk Street, Newington 0131 667 9966
Edinburgh 4 Hutchison Terrace, Slateford 0131 443 0330
Manufacturer's Aftercare Advice
Please do not eat or drink anything other than water for 30 minutes after whitening teeth. It is important to follow a white food diet for the first 24 hours. Please see below for suggested food and drinks that you can and cannot have for the following 24 hours.
You CAN Have the Following:
Chicken (dry or boiled with no fat)

Turkey (dry or boiled with no fat)

White Fish (eg Cod, Plaice or Haddock)

Potatoes (You must no eat the skin or have butter or chips)

A Small White Pitta Bread

White Rice

White Pasta

White Pasta Sauce

Rice Krispies with Skimmed Milk

White Chewing Gum

Skimmed Milk

Still or Sparkling Water

Tonic Water

Lemonade

Vodka

Malibu

Gin
You
You CANNOT Have the Following:

ng:
Red Meats (inc Beef, Lamb & Pork)

Coloured Fish (inc Salon, tUna, Sardines & Prawns)

Coloured Salad (inc Beetroot, Tomatoes & Lettuce)

Brown or Coloured Pasta

Any Coloured or Chocolate or Wheat Based Cereals

Sweets or Chocolate (inc White Chocolate)

Any Coloured Juice (inc Coke, Irn Bru & Orange Juice)
Please note that customers need to be at least 16 years of age in order to purchase this product. It is not recommended for pregnant or breastfeeding women. No advice or assistance can be provided for customers in applying the product. This is purely a self-administered product